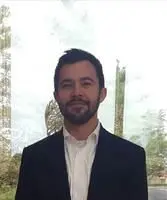 Miles Lourenco M.Ed, LPC is a Licensed Professional Counselor. who specializes in mental health and substance abuse issues. Mr. Lourenco brings experience in both private practice and inpatient treatment.
Miles draws from an array of theoretical approaches which culminates in a highly tailored and individualized approach for each patient he sees. His personable demeanor makes the individuals he works feel at ease early in the therapy process. He collaboratively works with each individual to develop a treatment plan that will assist the patient in meeting their goals to be the best they can be.
Licenses and Approvals
Licensed Professional Counselor in Texas by the Department of State Health Services
Education
Masters of Education in Counseling and Human Development from Hardin Simmons University.
Background
In addition to private practice Mr. Lourenco has extensive experience in inpatient treatment working with a wide range of patients in psychotherapy as well as program administration.
To Schedule An Appointment With Miles
Miles Lourenco LPC - 325-518-6243
To Schedule an Online Appointment Click On: